NEXT EVENT
When: September 15, 2019 - Noon - Preview, 1:00 Auction

Where: NTI, 709 S. Old Missouri Rd., Springdale, AR
Program: Annual Orchid Auction
UPCOMING EVENTS....
**Sunday, September 15, 2019**
Program: Annual Orchid Auction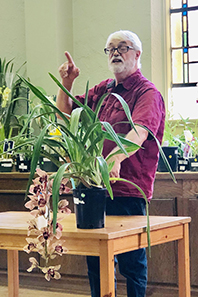 September 15, 2019

NTI, 709 S. Old Missouri Rd., Springdale, AR
PREVIEW: NOON - Auction starts: 1:00 pm ANNUAL ORCHID AUCTION!! Our Annual Orchid Auction starts with a preview at noon and the bidding begins at 1:00 pm lasting until 3:30 pm or until the orchids run out! Watch this space for an update or auction list coming soon!

October 20, 2019

NTI, 709 S. Old Missouri Rd., Springdale, AR
Meeting: 1:30 Program: Dr. Kristen Uthus, New World Orchids. Dr. Uthus is also a returning speaker and she'll bring lots of cool small plants.

November 17, 2019

NTI, 709 S. Old Missouri Rd., Springdale, AR
Meeting: 1:30 Program: Dr. Robert Marsh. Dr. Marsh will be here to talk about the genus Barkeria

President - TBD
Vice-President - Art Evans
Secretary - Suzanne Miller
Treasurer - Lois Geren
Excutive Board Members - Paul Bowen & Bradley Martin
For people interested in becoming members of the OSO, please feel free to contact Trudy Pickett, our Membership Committee Chair. You can reach her at: email butchandtrudy@cox.net

See you all at the meeting! Come early and if you have the chance, bring a guest! See you there!

SOCIETY INTRODUCTION:

The Orchid Society of the Ozarks is an active group of orchid enthusiasts in Northwest Arkansas. We meet monthly , usually the third Sunday afternoon, to share information and blooming orchids with each other. Most months we have around 30 orchids which members enter into an informal judging. A "Plant of the Month" winner is chosen. Winners accrue points and prizes are awarded at the end of the year.

Our society is an affiliate member of the Mid-America Orchid Congress, the Southwest Regional Orchid Growers Association and the American Orchid Society. We are also a sponsor of the North American Conservation Center (NAOCC), and are a sponsor of one of the "orchid-gami" orchids, the Large Whorled Pogonia, Isotria verticillata. We were happy to sponsor this orchid as it is a native orchid found in Arkansas.

We have speakers for most meetings with a selection of those coming from a group of nationally known orchid experts. Speaking topics range from orchid culture and best practices to current breeding trends. Most speakers bring plants to sell and many offer discounts for members that pre-order. Some speakers in the last couple of years are: Glen Decker of Piping Rocks Orchids; Alan Koch of Gold Country Orchids; Nathan Bell of College of the Ozarks; Blanche Wagner of Missouri Botanical Garden, Fred Clark of Sunset Valley Orchids.

We have a monthly plant raffle at meetings where members can acquire plants. One of our main fundraisers is our auction in September with lively bidding on orchids donated from members and venders. Our second fundraiser is our show and sale "Orchids in the Garden" held the first weekend in March at the Botanical Garden of the Ozarks.


Angraecum dollii 'Supple Star

Dendrobium Fire Wings Mike Porter

Dendrobium Miva Abracadabra Spotted Toadstool

Dendrobium nobile Fort Allen

Lycaste Athanacia Snow Angel

Paph Hsining Majakun 'Tim Hicks'

Paphiopedilum Barbi's White Satin Barbara Ann

Paphiopedilum Big Green Bird Judy Harris

Paphiopedilum Bird Dog LL Caren Dickey

Paphiopedilum delenatii f. albinum Memoria Tom Larkin

Paphiopedilum Hilo Mojito Majestic Mint

Paphiopedilum Hsinying Majakun Tim Hicks

Paphiopedilum Memoria Patrick Griffin Kathy Judy

Phragmipedium Caroline Miller Ott Windy Hill

Phragmipedium Penns Creek Cascade Mark's

Rhyncattleanthe Jay Larkin Ruby Sunset

Rhyncholaeliocattleya Adria Marie Sheth Lone Jack

Rhyncholaeliocattleya Cutie Girl Pottsy's Betsy Jane

Rhyncholaeliocattleya Cutie Girl Pottsy's Betsy Jane

Rhyncholaeliocattleya Little Circle Cherry Bomb

Springfield Orchid Society SC AOS Show Trophy

Tolumnia Marilyn LeDoux 'Cusi's Pride'

Vanda White Crane Princess Leia

Vandachostylis Pinky Pottsy's OSO Justified

Vandachostylis Pinky Starry Night

Angraecum dollii 'Supple Star
Photos in this slide show were provide by Steve Marak


The Orchid Society of the Ozarks is an Arkansas not for profit corporation.